Hello All.
I decided to start this thread to make my point on chiton wearing and style.
A great number of re-enactors are interested in the period 530-450bc. In this period apears one of the many styles of chiton,but one that dominates at least in art in the above period. It is the one with curved bottom and well arranged pleats that apear universally and almost identical in all artists of the period. Also sculptures like the Arstion stele and the Aphaia temple confirm the vase painters had something specific in mind.
An example is this one:
http://i118.photobucket.com/albums/o118 ... Munich.jpg
And also:
http://i118.photobucket.com/albums/o118 ... gscene.jpg
http://i118.photobucket.com/albums/o118 ... onable.jpg
However,for some reason almost no re-enactor has payed attention in their style of chiton and the way it should be draped or cut.
So here i demonstrate the effects that can be caused by a couple of ways to resemble what art shows.
For my chiton normally i would need about 1.6 m of matterial,using the elbow-to-elbow rule. This is what most re-enactors use,and it's half correct. You see,this should be the length of the
upper hem
. In reality you need much more matterial. I used three meters for my latest chiton that you will see below. I gathered it in the upper hem so it reached the desired 1,6m perimeter and stitched it there. Then you have enough matterial to drape and form as you wish.
Below i will post photos and descriptions of the different chitons i have made with different methods to produce efect similar to what art shows. Any of them
could
be correct and certainly there were many different styles (even in those with pleats and curved lower hem line) and this clear from the art also. Some designs would require softer matterial and more or less matterial.
Here they are in chronological order:
This chiton is linen. I stitched the pleats carefully on the shoulders,six pleats in each shoulder. The bottom was cut curved with four curves,one for each side. I should mention that usually in vases the curves are four or six. Less often they can be much more and smaller. The famous Achilles vase is one of them.
Though i shouldn't,i also stitched the pleats in the waist,just for convenience. Then i ironed the pleats from the waist down and still,after i think 4-5 years they maintain their shape with a little help in draping. I also added a black silk tape on the bottom. Why silk? Because it was readily available in the size i wanted it and because i re-enact a wealthy aristocratic youth,with my elaborate corinthian and crest. And greeks at least knew of silk.Also it is more than probable that such chitons would have been worn by wealthy people. The assistance of a slave would be very useful to achieve the impression. Normally this thin line would have been woven on the fabric.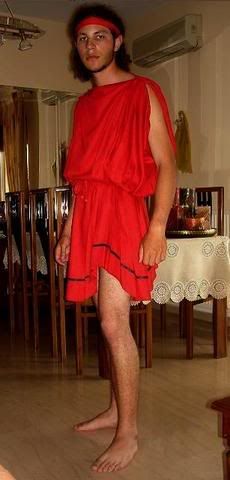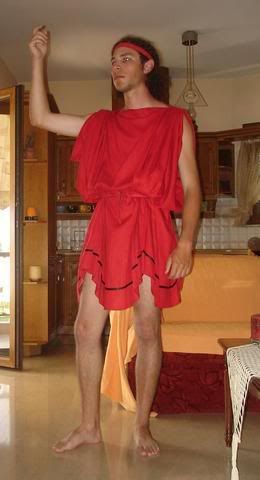 Second chiton i made was wool. I wanted to try an idea that would create that buffy effect that we see some times on vases on the upper hem. I passed a thin wire through the upper hem and gathered the fabric to achieve the lenght i wanted. Again you need much more matterial. Although in the photo it doesn't look vert buffy,in real the impression i think was near the vase paintings. Or at least,they could be interpreted like that.
In this one i also cut the lower edge in six curvs this time. Three for the front and three for the back.I would like the matterial to be softer and be draped easier. In this one i didn't gather more fabric in the shoulders. Some vases clearly show gathered pleats in the shoulders or even in the middle of the neck hole (when they have more curves),and some others don't. I also didn't iron the fabric in the pleats under the waist. After all there were no specific pleats to iron.
Giannis K. Hoplite
a.k.a.:Giannis Kadoglou
a.k.a.:Thorax