02-07-2018, 02:55 PM (This post was last modified: 02-07-2018, 05:26 PM by Nathan Ross.)
(02-06-2018, 04:56 PM)

Theoderic Wrote:

there were a number of forts established throughout the Midlands post the battle for a limited period
Then again, the fort at Water Newton is only a few miles west of the big vexillation fortress at Longthorpe, which apparently dates back to the Claudian period. Quite possibly Longthorpe was built just after the Iceni revolt of AD48, and the auxiliary fort at Water Newton, guarding the crossing of the Nene, may date from around the same period. Alternatively, the Water Newton site could have been established when Ermine Street was extended northwards, as a replacement for the Longthorpe fortification when the Ninth Legion moved up to Lincoln in (I think) the Flavian period.
Meanwhile, I was thinking a bit more about the defeat of Petillius Cerialis and the Ninth as they tried to relieve Colchester at the start of the revolt. Tacitus tells us that the 'victorious Briton' defeated Cerialis, presumably meaning the same force that had just sacked the city. So Cerialis's column could have got quite close to Colchester when they were defeated - perhaps even to the edge of the city itself.
The map below shows the early Roman city and the surrounding Iron Age setting. I would guess that Cerialis would have approached along the road from the north-west, approximately following the Colne valley. This road appears to meet with three others immediately west of Gryme's Dyke, and then pass through 2-3 further lines of ancient fortification before reaching the city.
Could it be that the Britons in Colchester, learning of the approach of a Roman relief force from the north-west, manned one or other of these very formidable ancient fortification lines? This might explain how they beat Cerealis and destroyed his infantry - a Roman assault against one of the dyke lines could have been enveloped by overwhelming numbers of defenders. Cerialis would not have sent cavalry against a fortified position, of course - so that would explain how he lost his infantry while the cavalry escaped.
We'll never know for sure, but it seems at least as plausible as the usual 'ambush in the woods' scenario!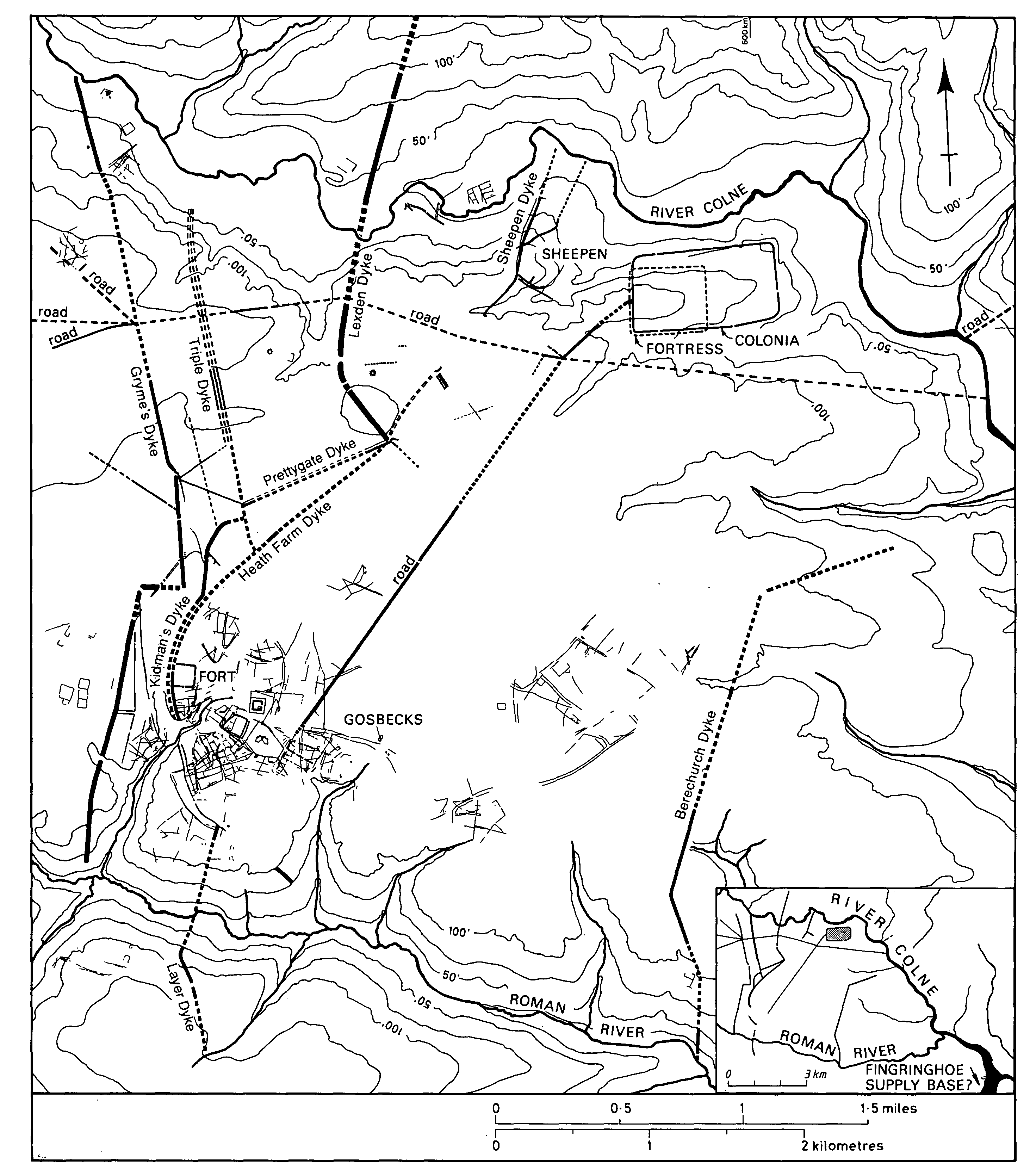 Map from here -
Iron Age and Roman Colchester
Nathan Ross